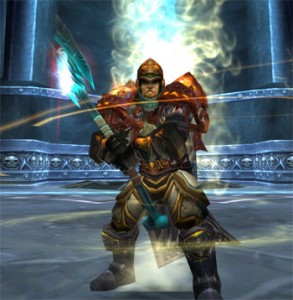 Retribution Paladins and Haste is current as of Patch 4.0.6, Patch 4.1 and Cataclysm.
Alright everyone, let's take a look at Haste and see how it affects Retribution Paladins.  I know many of you are scrambling to try and understand the mechanics of this and how it affects our cooldowns and DPS as of Patch 4.0.6.
Here is what Haste basically does:
Increases how often our weapon swings by reducing the weapon speed.
Speeds up our DoTs, including Seal of Truth (Censure), making the damage tick faster.
Lowers our cooldowns on attacks and abilities, allowing for more attacks, which equals more damage.
Haste and Crusader Strike
The chaos about Haste in the aftermath of Patch 4.0.6 derives from how it affects Crusader Strike, and the ability to get mopre Templar's Verdicts.  To put this in the simplest terms, Crusader Strike is the heart of our damaging attacks, as it is the best source for generating Holy Power (100% chance).  Templar's Verdict is our strongest damaging attack, and it costs Holy Power to use.  In order to maximize DPS, Templar's Verdict should only be used when we have 3 stacks of Holy Power.
So, basically, Ret Paladins want as many Crusader Strikes to hit as quickly as possible, allowing for more Templar's Verdict uses.
quicker Crusader Strikes = more Crusader Strikes = more Templar's Verdicts = Higher DPS
HOWEVER, with Patch 4.0.6 and the way our other abilities and attacks function, haste does not provide the value that Mastery and Critical Strike does.  The logic above would hold true if we were able to get Crusader Strike down to a 3 second cooldown.  But even in end-Cataclysm gear, the amount of Haste needed probably still will not be reached.  Simply put, no matter how much Haste you stack, you won't be able to get Crusader Strike down to its optimal 3 second cooldown.
I have written a quick post on why Haste is our lowest priority stat, trying to simplify the reasoning as much as possible:
Haste Summary
So, for the TLDR version of this post:
Current stat values are:  Str > Hit > Exp > Mastery > Crit > Haste
Reforge away from Haste to your most needed stat, wherever possible.
Do not gem haste.
Note: As always, when patches get released and content changes, there's always a possibilty stat values could change.  Mechanics for our class seem to morph every patch or two, so check back often to see if Haste has gained or dropped further in priority!