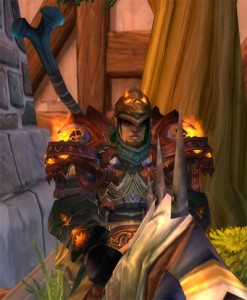 I have been really vigilant in getting information out as soon as I can, and am trying to keep all the Patch 4.0.1 mechanics up to date.  However, there are still a few questions that linger, and I will try to address them here.  First, I will cover understanding Haste and why less Haste is needed with higher latency.  Second, I will cover our meta gem at level 80.  Third, I will discuss our FCFS priority system again.
Ret Paladin Patch 4.0.1 Haste
Alright guys, there is a ton of confusion on Haste.  I will be updating my Haste page as soon as I get this post up, so you will have multiple areas to view this information.  The biggest question seems to be: "How is it that I need less haste with higher latency?"  Some players feel that they need more haste to actually beat their latency, and that just isn't the case.
I have tried over and over in my head to simplify this answer, so bear with me…Haste is soft capped by inserting your latency into a math equation, resulting in a number.  That number is your haste soft cap, the number you need to reach to get Crusader Strike down to a 3 second cooldown.
Retribution Paladins and Haste Click for more Ret Paladin Haste info.
1. Since Crusader Strike has a 4.5 second cooldown normally, that means we need to knock off 1.5 seconds to get to the desired 3.
2. So, we need a full 1019 haste if our latency is 0 ms.
3. If we add a delay of 100 ms latency, then the 100ms actually takes up a part of that 1.5 seconds we need to take off.  So we no longer need a full 1019 haste, now we only need 751.  751 haste added with 100 ms latency equals the total 1.5 seconds we need to knock off the cooldown.


4. If we add a delay of 300 ms latency, then that takes up a much larger part of the 1.5 seconds, meaning we require a smaller amount of Haste to be soft capped.  300 ms latency added to 303 haste equals a 1.5 second dropoff on Crusader Strike's cooldown.
I hope this makes sense.  I am shortcutting a few steps, but this is the easiest way to view how latency affects the haste we need.  Ultimately, if you lag a ton, you won't need as much Haste.  If you have a blazing fast connection, Haste will be more important for you.  It's a very tricky mechanic.
Ret Paladin 4.0.1 Meta Gem
I had previously stated that the [Chaotic Skyflare Diamond] was our BiS Meta at the current time.  I was wrong.  Because of the Meta requirements, you are essentially comparing 10 strength or even 20 strength vs a rough 0.1% crit loss.  Stick with [Relentless Earthsiege Diamond].  Thanks to SlimJim for making me recheck my work!
If you want the quick math, 21 agility gives about 0.52% crit and 21 critical strike yields about 0.45% crit.  My math may or may not be a bit off, but it's a moot point to argue.  The crit difference is so small either way that you still are way better off going with Relentless.
Retribution Paladin 4.0.1 FCFS Rotation
Another amendment to our FCFS.  There is a ton of debate going on right now on whether Avenging Wrath and Zealotry should be used together or separately, and if separately, which one goes first?  My personal testing slides me in the direction of separately with Avenging Wrath first.  The recent change to Hammer of Wrath has launched it right behind (or possibly above) Templar's Verdict.  Here are the current FCFS rotations being debated:
Normal – TV > HoW > CS > Ex > Judge > HW > Cons
AV – HoW > TV > CS > Ex > Judge
Zealotry – TV > CS
AV + Zealotry – TV > CS or TV > HoW > CS
Under any use of Zealotry, you would not use anything past Crusader Strike, as it would be a DPS loss. It's better to sit on the attacks mentioned and only use those for the duration of the buffs.