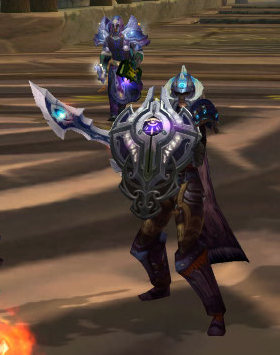 Why are players so hell bent on verbally bashing and crushing newer or lesser geared tanks?  I mean, it's only a game, right?  How come you can literally look at a tank, see his or her gear, and determine every aspect of their tanking performance that very second?  Because we've all learned that a bad tank is the bane of all things that are 5-man PUGs.
Tanking on my scrub Paladin for more emblems to gear up quickly seemed like a good idea…right up until I was getting scolded every other run for this reason or that.  Most were unfounded, usually due to other player actions.  And some were legit, just coming with the territory of having mediocre tanking gear and lower HP.
But in 5-mans, I'm a decent enough tank.  I know what I am doing.  I know how to control a run at the quickest pace possible, without leading to wipes.  I can pretty much decipher my healer's capabilities within a couple pulls, and I can definitely tell the capabilities of my DPS within the first 2 pulls.  With my uber Paladin or scrub Paladin, it makes no difference.  I can adjust my style of play to fit my PUG.  But are they willing to do the same for me?
Better question…when I am on my Ret Paladin, am I willing to adjust my style of gameplay for the under-performing tank?
I'd love to say yes on every occasion, but I have to be honest…no.  PUGs are ultimately controlled by tanks.  The speed of the run, ability to hold threat on all mobs, choice of pulls, etc.  Where you go and what you do relies entirely upon their gameplay and performance.
PUG Tanks…to Kick or Not to Kick?
Let's face it, not everyone is a decent tank.  Not everyone can run with their second Paladin, bringing hours and hours of tanking experience behind them.
There are players fresh to tanking…
There are players with scrub gear…
There are players who pull with mind-numbing slowness…
There are players who can't seem to comprehend that taunting and threat are related…
There are players who ignore loose mobs as they batter the defenseless healer…
There are players who cannot and will not listen to advice…
It's just too easy to find fault in tanks.  But can we really tell if the tank is truly learning the ropes, or is the tank just half-assing an instance for quick badges?  From my experience, it woefully seems to be half and half.
I have found myself doing any number of the following, often multiple times in the same run:
Pulling mobs myself because tank was pulling too slowly.
Pulling mobs myself because tank was pulling ONE mob at a time.
Intentionally pulling threat to better control a pack of mobs.
Scolding a tank for repeated threat issues. (Only when they get combative and argumentative)
Was I being fair to the tanks?  Honestly, I don't know.  All I know is that my patience with tanks in 5-mans wears very thin.  That doesn't make it right.
Being Nice to Tanks
So if you find yourself stuck with a tank performing under par, these are my suggestions:
1.  Keep Quiet
If your tank is struggling, be it innocently or by negligence, keep your thoughts to yourself.  It's nearly impossible to determine if they just plain stink or are really trying to learn.  Constructive advice is, of course, welcome.  Shooting your mouth off only creates longer runs, generates a bad rep for you, and can possibly hurt another person's feelings.  I know, I know, that's corny as hell, but some people don't take abrasive criticism too well.  Think about how it feels to have someone mouthing off at you next time you fell the urge to verbally slap someone.
2.  Pull With Caution
If a tank is awful at holding threat, we as Ret Paladins can help.  Taunt loose mobs back to the pack with Hand of Reckoning.  Stun and lock 'em up if need be.  Just be careful not to pull mobs already on the struggling tank.
3.  Pull Within Your Limits
If your tank is pulling slowly (and by slowly, I mean one at a time, or prolonged lapses between pulls), feel free to pull in an extra mob or two, just so long as you can handle them.  Stun, repent, whatever you need to do.  Chances are the tank will grab the mobs if they see them coming close.  Just make sure to stay within the healing abilities of your healer.  Don't pile on additional undue stress for them, as they may already have their hands full with the tank.
4.  Delay Combat, Don't Muffle Combat
My Ret Paladin, Khor, hits like a truck in 5-mans.  I can pull some nasty threat, yanking 8k or more DPS on packs of mobs at times.  Even a decent tank may have trouble holding threat.  Should we back down and tone down the DPS?  No, I don't think so.  Instead, delay combat by 5 seconds or so, and let the tank get some decent threat.  Then run in and wreak havok.  This is particularly true for Warriors, and sometimes Druids as well.