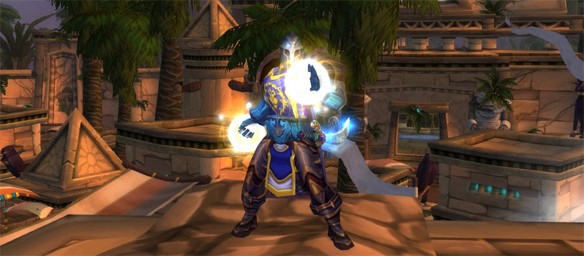 Holy Paladins.  Healing.  Actually using mana.  Currently the hardest role in Cataclysm.  Holy Paladins are seeing tremendous use in raids and 5-mans.  Why?  Because are heals are extremely efficient, and our healing per second (HPS) is topping just about all other healing classes.  So, it should be little surprise that many Retribution Paladins are being pulled into healing roles.  I am one of those.
Healing is a very different role, in that you are not directly linked to combat and killing strategies.  A healer's job is to stay alive, and keep everyone around them alive, as well.  To do so, you must effectively use all your heals, and conserve mana to last through entire fights.  Easier said than done, especially in Cataclysm.  Holy Paladins have an arsenal of healing tools that help them emerge as some of the top healers in the early phases of Cataclysm.
This page is dedicated to the basics of building and functioning as a Holy Paladin.
Holy Paladin Talents
Holy Paladin Stats
Here are the stat priorities for Holy Paladins.  You will notice they are pretty similar to what they were in Wrath.
Intellect
Spirit
Haste
Critical Strike
Mastery
In my experience, haste far outweighs crit and Mastery, so if I am reforging a stat, I am usually reforging Mastery to Haste.  I am still toying with reforging crit to haste, and haven't really seen a difference thus far. When haste is already on the item, I am reforging to spirit.
Intellect gives us spell power, mana, and spell crit, so it is the heaviest stat by far, and all gemming and enchanting should be aimed at this if possible.
Holy Paladins Gems
Really, there are only a few gems we will be using:
Brilliant Inferno Rubies are going in every slot, unless the socket bonus at 20 intellect or more.  To get teh meta socket bonus, I am using 2 Reckless Ember Topaz.
Holy Paladins Enchants
Holy Paladins Glyphs
Prime
The above three are my choices.  You may also use:
Major
These are my top three choices based on my personal style of healing.  You may find another major glyph more to your suiting.
Minor
Tips and Tricks
Okay, so I am being used as a healer far more than DPS in our current state.  Until Ret DPS picks up, I don't see the light shining down on us favorably in terms of getting raid spots.  So, Holy for me for now.  Here are some tips and tricks I have been using:
Judgement
Try and use this as often as possible to replenish mana.  If using it correctly in 5-mans, you rarely will be in dire need of mana.  If used in raids, you are extending your mana pool by a good minute at least.  You must be within range of a mob to use this though, so positioning is key.
Beacon of Light
While it only transfers 50% of other healing to the target, this is still a huge tool.  With the duration improved to 5 minuites, we no longer have to worry about refreshing this in a fight (Unless it is a longer raid boss encounter). For me, Beacon is always on the tank.  I focus on group and raid healing and only focus heal the tank if everyone else is full on HP.  TO make sure it never falls off, I always refresh this before each pull.  It's not mana intensive, so get in the habit.
Heal Rotations
There isn't a set heal rotation, but I will tell you my order of heal priorities:
Holy Shock (for Holy Power generation)
Word of Glory (at 3 Holy Power)
Holy Light (Most efficient heal)
Holy Radiance (AoE healing)
Light of Dawn (AoE healing)
Divine Light
Flash of Light
Some Holy Paladins rank Light of Dawn higher, but that is best used on groups of players.  For 5-mans, I rarely use this, as I am usually not clumped with the melee.  Word of Glory is usually a better use of HP.  In raids, like Magmaw, if I have players clumped, Light of Dawn is a top priority and wins hands down over Word of Glory.
Holy Radiance
Holy Radiance is a great heal.  I fall more in love with it every run.  For 5-mans, if you see the group starting to take damage, use Holy Radiance.  It's an extremely powerful and efficient heal.  Yes, it is a little high on mana cost, but you should be able to minimize that by judging mana back.  It will also see high and frequent use in raids.  For fights where raid dmaage is high, or you get behind on heals, pop this often.
Holy Shock and Holy Light
These are my main heals, and what I use 75% of the time.  In 5-mans, unless we start taking a ton of damage, I stick with these extremely efficient heals.  They are low mana cost, and allow for extreme mana conservation.  It's no wonder their mana cost is going up in 4.0.6.  Use these guys primarily, and only resort to the bigger heals (Divine Light and Flash of Light) if you start to fall behind.
Divine Light
For every 3 Holy Lights in raids, I find myself hitting 1 Divine Light.  This helps keep up with incoming damage, especially the heal transfer from Beacon of Light.
Flash of Light
A wonderful fast heal that I use ONLY when a player (usually tank) starts getting tons of damage.  This occurs mainly in 5-mans, when more than one group of adds is pulled, or the tank is undergeared.
Divine Plea
(Mana regeneration) In 5-mans, I never use this in combat, only between pulls.  For raids, this is used when I am out of mana, or there is a part of the fight where incoming dmaage is very low.
Healing 5-Mans
Buff with BoM or BoK, depending if there is a Druid in your group.  Devotion Aura by default, and Resistance Aura for fights that require it.  Seal of Insight at all times.  Beacon of Light on tank.  Heal with Holy Light and Holy Shock as often as possible.  Use Word of Glory whenever it is on 3HP (Can use it with less if needed).  Keep judging mobs to replinish mana, and make frequent use of your cooldowns and Holy Radiance.
Healing Raids
Same buffing as above and Beacon on tank (usually).  Mana replenishment is key here, so make sure to Judge and use Divine Plea when incoming damage is low.  Keep mana pots on you as well.  Group healing is usually my focus, with tank as a secondary target via Beacon of Light.  Just make sure to be aware of positioning.  Getting out of judgement range can really hurt your mana replinishment.
Using cooldowns
Avenging Wrath, Guardian of Ancient Kings, and Divine Favor are usually saved for boss fights.  However, in 5-mans, if the fight becomes helaing intensive, I have no problems casting Avenging Wrath to help me out.
Using Potions
Any non-mana potions for stat buffs should be used in tandem with Bloodlust or Heroism.
Khor's Disclaimer
I am not a full-time Holy Paladin.  There are much better Paladins out there who heal, but I wanted to give you guys my take on it, since many Rets are looking for other ways to fit into 5-mans and raids.  If you have any comments or suggestions, feel free to leave a comment below!
For further information, I will refer you to Elitist Jerks, which is where I do most of my Holy Paladin research. I float over to the WoW forums every now and then as well, but EJ is more my style for healing.