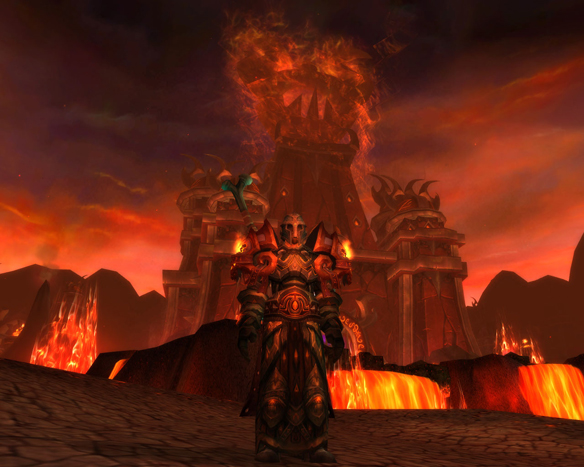 There are so many ways to make gold in Cataclysm right now, it's not even funny.  Pretty much pick something to sell, and you will see big profits.  This won't last forever, and as Cataclysm trucks along, prices will dwindle.  For now though, enjoy raking in that extra gold!
I decided to list my top 5 ways of earning extra cash, and I would love to hear how others are making extra income as well!
1.  Embersilk Cloth
After finishing First Aid, I started selling this on the Auction House, and it has not slowed down at all.  I am averaging 150g-175g per stack, with stacks almost always selling within 5 minutes of placing them on the AH.  The best way I have found to go about this is to farm Tol Barad, usually the daily quest areas (aka the D-Block, etc.)m even when it is occupied by the opposing faction.  A good 30 minutes of farming usually yields 4 to 5 stacks.
2.  Obsidium and Elementium Ore
Mining is my gathering profession, and now that Blacksmithing is maxed, selling ore has made huge profits.  The market still is fluctuating, but Obsidum ore is bringing in anywhere from 100g-200g, with Elementium ore around the 100g-150g range.  Mining is best in your server's off hours, and my best place to farm is stil lrather untouched..Tol Barad. Not the peninsula, the battleground areas.  About 6 or 7 ore spawn locations that pop fairly frequently.  That's between you and me though, and in the words of Emeril Lagasse, "Shhhh! Don't tell 'em, they'll all be doin' it!"
3.  Pyrium Bars
 Mining usually gives me plenty Pyrite Ore, with Pyrium Bars as the end result.   The bars have been selling for more than the ore itself, with one bar averaging anywhere from 35g-75g on my server.  Very fast gold here if you get lucky enough to pick up several Pyrtie Vein spawns.
4.  Volatile Elements
While these were extremely hot when Cataclysm launched, they have simmered down a little since.  Nevertheless, fires, waters, and air are all fetching solid prices at 25g-40g each, with earths around 10g-20g.
5.  Daily Quests
Not anything exciting, I know, but completing all 25 daily quests in the course of a day is generating roughly 300g or so, not to mention all the mats, gear, and vendor trash accumulated along the way!
 Other Methods
Obviously, I am leaving out some huge money makers, such as herbs, enchanting mats, leather, etc.  How are you guys making gold?