LFD, Dungeon Finder, and DPS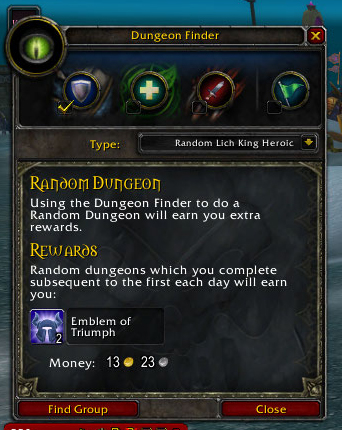 The Dungeon Finder, or LFD tool, has been an absolutely wonderful addition to WoW.  Not only is it helping me get into more dungeons, loot more badges, and help speed up certain aspects of the game, but it is letting me experience playing with people from other servers, too.  I am not one of those that are bitter and complaining about the instant port to the dungeon.  In fact, I love the change.
Traveling in WoW is fun, especially the first few times around…but flying to Gundrak every other day from Dalaran, and other areas just isn't a good justification of time well spent.
However, I have noticed that when queueing in the LFD tool, signing up as DPS usually generates a 3-5 minute average wait time.  Average?  Bah!  More like 7 to 10 minutes at times.
There are far more people wanting to DPS than tank or heal, so taking full advantage of the benefits the dungeon finder is hindered unless selecting tanking or healing roles.
Am I better at DPS than a tank?  Sure.  Especially now that Paladins can wreak unholy havok in 5-mans with Seal of Command spewing huge chunks of damage.  But waiting in the DPS line of the LFD tool is just a little inefficient for my taste.  I want badges, I want to run.  If I am using the LFD tool, then I am looking for that immediate entry.
So, until things balance out, I will be running all the dungeon finder random daily heroics as Prot spec.  I am literally getting 2 or 3 second wait times before I am sucked into a dungeon.  The badges are pouring in, and I am under a constant flow of gear upgrading.
If you are DPS in the LFD tool, expect longer wait times.  You'll get in, but it might take 5x to 10x longer than if you went heals or tank.