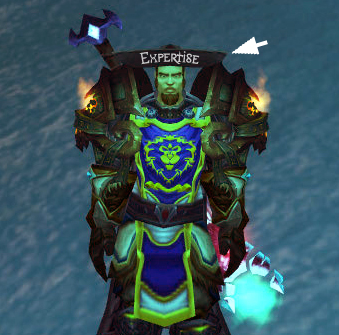 Retribution Paladin Expertise Cap is current for Cataclysm, Patch 4.0, Patch 4.0.6 and Patch 4.1.  The expertise cap for a Retribution Paladin at level 85 is 26, or 781 Expertise Rating.   This stat is important because it removes mob and boss dodges from the table.  We will often hear that it removes parry as well, but that's not completely accurate, because it's not entirely possible to remove all parries.  However, bosses can only parry front attacks, not attacks made from behind…so stay behind the target!
To maximize DPS, each Ret Paladin should have their expertise capped.  Reforging now provides a solid option for reaching the expertise cap, when gearing alone cannot bring us up to full potential. Seal of Vengeance glyph can also help bring us up to the expertise cap, much as it did in Wrath of the Lich King.
Enchanting and gemming for hit cap is not optimal DPS, unless there are no options for either Strength or Attack Power.
Ret Paladin Expertise Cap
26 Expertise
781 Expertise Rating to achieve 26 @ level 85
Eliminates enemy chance to dodge attacks.
Humans get an extra 3 Expertise by using either Maces, 2H Maces, Swords, or 2H Swords (from racials).
Dwarves get an extra 5 Expertise by using Maces or 2H Maces (from racials).
Maximizes DPS