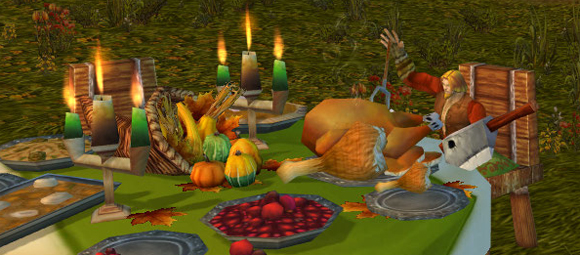 Happy Thanksgiving everyone!  I hope all of you have a safe and great holiday.  Eat as much Turkey as you can, watch some football, and maybe even enjoy a little WoW at the end of the day!
Yours truly is taking the day off from WoW, so the Rets can run free today!  I have many more posts almost finished for you guys, and you will probably start seeing the first of them tomorrow.
I will leave you today with a question, and I would like some feedback.  I have noticed several comments and emails directly related to stats at level 80, as if there will still be some mad rush in regards to raiding before Cataclysm arrives.
I was under the impression raiding had been grounded to a halt, or maybe a very slow trot…but some guilds it seems, are still hitting raids hardcore.
With the exception of my talents page (which is half done), all the general Ret info should be current (hit cap, stats, rotations, etc.).  So if you need help on those topics, be sure to hit those pages first.
For those that are still raiding, I'd love to hear how often you are running, what you are trying to take down, and why so close to Cata?
Everyone be very safe!  Don't WRECK your holiday with too much of the Dwarven Stout!  Happy Thanksgiving!
– Khor