Leveling a Dwarf Paladin

Levels 1-10
Leveling a Dwarf Paladin has become much easier since the relase of Patch 3.3.  As one of 3 Alliance races that can become a Paladin, the Dwarf has unique passive talents that can help in the leveling process.  Dwarf Paladins cannot officially become a Ret Paladin until level 10, when access to the talent tree is opened.
My goal for this Paladin is to give a guide to beginning Dwarf Paladin leveling, which will transition into a Paladin PvP twink guide.
The Beginning
A Dwarf Paladin starts out in Coldridge Valley, which lies in the southwest corner of Dun Morogh.  In order to speed up my leveling process, I decided to go ahead and send over my heirloom gear, as well as some extra goodies.
Here is a list of items I sent over:
50 gold
Assortment of random level 5-10 greens
The reason for all the enchants is to boost my HP, and allow for attacking packs of mobs, even at a low level.  Running around at level 8, I was able to take on 4 level 10 Leper Gnomes without healing.  I'm sure I could have survived a couple more as well.  Also, since this toon will convert to a PvP twink at level 10, I wanted to have enchants available as I upgrade gear.
After I had all these items in the mail to my new Dwarf Paladin, Khode, I went ahead and logged back into my level 1 Dwarf and started my unfortunately long journey to Ironforge.  Heading north out of Coldridge Valley, I went through the tunnel without attacking any mobs or picking up any quests. Once exiting the tunnel, head north along the road and stick to the road all the way to Ironforge.
You will pass through Kharanos, which has a mailbox, but do not linger.  I could have pulled my items out there, but I decided to wait until I got to Ironforge.  Do not set your hearth here yet either.  You will need to hearth back to Coldridge Valley after Ironforge, or you'll have another long run back.  So, why Ironforge?  Because our nifty heirloom axe is, well, an axe, which Dwarf Paladins do not have the training for yet.  Ironforge must be reached in order to use the weapon.
Once in Ironforge, I retrieved my mail, trained both 1h and 2h axes, as well as picking up mining and a mining pick.  Engineering is the second profession of choice here, specifically for PvP.  I also picked up First Aid training.  I won't be doing cooking on this toon, since I have cooking maxed on Khor already.  Cooking got very, very tedious in WotLK, so leveling it up on alts went from easy to hell no.  Regardless, whatever professions you choose, remember to pick them up in Ironforge, then hearth back to Coldridge Valley.
Levels 1-3

The opening levels are easy.  Traveling to Ironforge netted me 50% experience needed for level 2, so that's what I started with.  I picked up the first and only quest available to me, and headed out to slaughter some wolves.  Make sure Seal of Righteousness is buffed.  This deals additional hoyl damage on melee swings.  After completing the quest requirements, I was level 2.  But my rule of thumb is to not go back and turn the first quest in until level 3.
There is a nice little camp of level 2 Troggs just to the south and west of the Coldridge Valley camp. Here is where I grinded until level 3.  Mostly I was killing in one shot, and never more than two.
At level 3, turn quest in and pick up all available quests, including:
Complete A New Threat first, which can be done in just to the southeast of the quest giver.  Continue to kill mobs until reaching level 4.
TIP: Kill every single mob in your path, no matter the level or how many.  This will help level quicker.
Levels 4-7
At level 4, head to the Paladin Trainer to pick up Judgement of Light.  Blessing of Might is also now available, so keep it buffed and active.  These will help make killing mobs even quicker.  The level 3-5 mobs can now usually be killed with Judgement, then one melee swing.
Complete all the remaining quests in Coldridge Valley.  By the time I was finished, I was level 7 and about halfway through to level 8.  Next stop: Kharanos.
Take the tunnel out of Coldridge Valley.  Instead of staying on the road all the way to Kharanos, hop off the north side and trek eastward through the many mobs there.  Kill everything in your path, and by the time you reach Kharanos, you should be level 8, or very close.
TIP:  Complete every quest you see.  Questing is still the fastest way to level, so whenever you see that yellow exclamation point ! above an NPC's head, grab it.
Levels 8-10
At level 8 I started the Kharanos quests.  Don't forget to grab all the quests at Steelgrill's Depot, just a few paces east of Kharanos.
Just from killing mobs while questing, I dinged level 9, then turning in the first round of quests shot me into level 10, and then some. At level 10 I went to the trainer, grabbed my follow-up quests, then immediately queue'd for my first Battleground.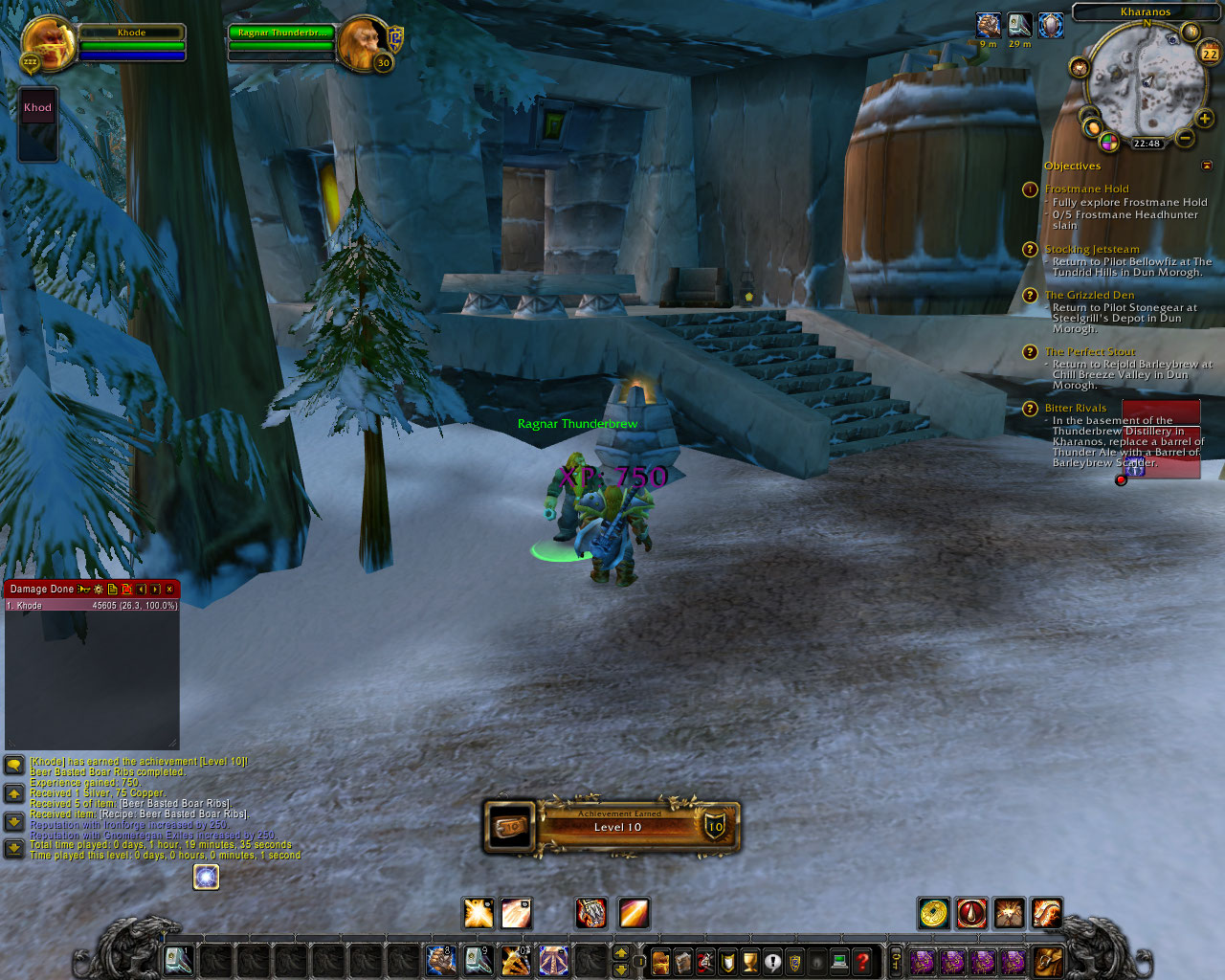 Done
That conlcudes leveling a Dwarf Paladin from levels 1 to 10.  It's extremely simple, and the overall time /played was around 60 minutes exactly.  That's very comparative to how quickly I leveled my human Paladin from 1 to 10.
If you don't have heirloom gear, no worries.  You'll probably be leaving Coldridge Valley at level 6, and not hitting level 10 until after turning in your second round of Kharanos quests.  Time /played may be anywhere from 1 hour 30 minutes to 2 hours.  Regardless, it's still fast, and very easy!
If you are having trouble with quests, and need a etailed quest guide, there are several free guides available.  I myself am opposed to a step-by-step leveling guide, because that more or less ruins the fun of the game for me.  Part of the entertainment of World of Warcraft is figuring things out.  I certainly love giving guidance, so you can find plenty of that here.
Before searching for a detailed leveling guide online, remember that Blizzard has recently implemented a detailed map guide for quests in-game.  This replaces several popular major add-ons designed for this exact purpose.
If there are any questions or suggestions, please feel free to leave comments below!