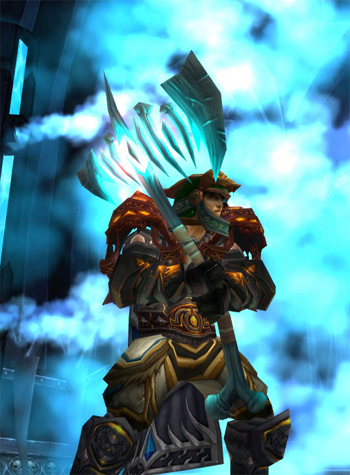 How does a Retribution Paladin improve their DPS?  That seems to be a common question many Ret Paladins ask, so I am going to give you guys a little insight on that particular topic.  First, if you are actively searching how to improve your DPS as Ret, I commend you…that's the first sign of a good raider.  A good DPSer is always keeping up to date with the mechanics of Ret DPS, and is always trying to find ways to maximize their damage output.
Last week, I was chatting on vent with another Ret Paladin in my guild…let's call him Valdor for fun.  Val is often called to tank or heal, and I am often called upon to heal certain fights as well.  The opportunity for us to run together, both as Ret, rarely presents itself.  This is unfortunate for me, because Val actually dishes out more DPS than I do, and I use our raid logs to compare our numbers, trying to pinpoint my deficiencies.  So, any chat with him is always educational in some way or form.
As we were talking, I came to the conclusion that our philosophies on Ret are very, very similar.  Building upon that talk we had, I'd like to discuss what I believe are the key components to Ret Paladin DPS.  If you are looking to improve your damage as a Ret Pally, here are the areas I'd recommend focusing on:
Talents
Anticipation
Positioning
DPS Rotations
Gear
Talents
First and foremost, Retribution Paladins must adhere to a very specific talent build in order to maximize DPS.  We are not fortunate enough to have multiple DPS trees, therefore Ret is our only option.  While experimenting and diverting talent points may be fun, the tried and true talent build for DPS is what should be followed.  Without the right talents, the remaining aspects of improving Ret DPS are meaningless.
The cookie cutter build for Paladins as of Patch 3.3 is 11/5/55.  Whether or not you decide to put your remaining talent points in Holy for Aura Mastery, or stack them in Protection for Divine Sacrifice is up to what your guild needs.  Personally, I stick with the 11/5/55 version.
Bottom Line: Straying from the cookie cutter Ret talent builds will ultimately mean less DPS.
Anticipation
The second most important aspect of Ret DPS is anticipation, and by that I mean knowing the fights, being aware of what is going on around you, and anticipating what will happen next…adjusting your combat approach as needed.  This means researching boss fights beforehand, knowing their abilities and how they affect you, and then applying those aspects in-game.
Also, be aware of everything around you.  Watch your tanks and healers, as well as other DPS, and keep track of their positioning.  Be aware of where you are going to move next.  Anticipate boss movements, and know where to run if need be.
Watch your health.  As a Paladin, we CAN heal ourselves.  I know that is a forgotten art for us in raiding, but an instant Flash of Light instead of an Exorcism could keep you from observing the rest of the fight as a smear on the ground.  We also have Lay on Hands, which is also often forgotten.  While I can use it on myself in times of need, I prefer to use it on a tank when I see them start taking really spikey damage.
Positioning
Positioning and anticipation really go hand in hand.  Where you stand on a boss fight, and where you are in relation to other mechanics of whatever boss fight you are on, can really help your DPS.  The less moving around you have to do, the higher your damage output will be.  Be in position to maximize DPS, and make sure to keep Seal of Vengeance refreshed and ticking on the boss at all times.
Here's an example, albeit a simple one.  On the Marrowgar fight, when not in Bonestorm, a Ret Paladin should be stacked immediately behind the boss to avoid the flames.  This should also put your AoE in range to help DPS down the Bone Spikes, without having to switch targets.  If you are outside this designated Marrowgar "box", you are not in optimal position, risk getting flamed, and are out of range of bone spikes..not to mention becoming a hassle if you are bone spiked yourself.
During Bonestorm, tail Marrowgar (not too closely) and keep judging and CS or DS as much as possible.  Doing so will put you in immediate range of him after he exits Bonestorm.  If you flee Bonestorm, head for the walls, and wait for the whirlwind to be over, then you are losing alot of DPS by not keeping SoV refreshed, as well as all the damage output lost running back to the boss.  Sure, you survived, but your DPS loss was probably in the thousands at that point.
Positioning is crucial, and at times, quite possibly, can be the single most important factor for maintaining high DPS.
DPS Rotations
Many people like to adjust their own FCFS rotations.  Here's my simple tip: stick to what has been proven to work.  Top Ret Paladins have crunched out numbers with countless gear combinations to come up with what works for best for our class.  Be aware that there are different FCFS rotations, depending on your current gear set-up in terms of tier gear.
– For anything under 2-piece T9: HoW > CS > Judge > DS > Cons > Ex > HW
– For 2 T9 or 4 T9: Judge > HoW > CS > DS > Cons > Ex > HW
– For 2 T9 and 2 T10, as well as 4 T10: Judgement > DS > CS > HoW > Consecrate > Exorcism > Holy Wrath
The only real substitution for T10 FCFS is switching DS and CS.  If you have low crit and haste, CS might be better off first…but for the most part, you will want DS ahead of CS.  If you want more info on FCFS, check out my menu to the right…I have my FCFS information link there.
In regards to AoE FCFS, that's really whatever works best for you, though I stack my AoEs first, then continue with normal FCFS rotations.
Gear
Gear is last?  You bet.  Skill always wins over gear.  Anticipation, positioning, and FCFS = skill.  Master those three, and your skill will take your DPS to new heights.  Gear is only as good as the person wearing it. Sure, gear helps, and if you know how to DPS as Ret, gear will really help launch your damage to the top of the raid meters.  But without skill, gear is just some pretty shinies you get to wear while swinging that big nasty two-hander.
When you have the skill down, your gear needs to focus on stats that best benefit a Retadin.  Strength, Expertise, Crit, and Haste will be your top priorities after hit rating.   Armor Pen, Agility, and Attack Power are stats you should avoid unless your gear is about 2 or 3 levels under par.
Really pay attention to your stats.  Getting yourself hit and expertise capped at the same time can require some delicate fine-tuning, but it is worth the effort.  Gem correctly.  Only strength, unless you are 2 T9 or above, then you can gem orange str/crit for yellow slots if the slot bonus is +str.
Improve Ret DPS
To improve Ret DPS, you must have the right build, anticipate, position yourself for optimal combat success, use the correct FCFS, and slap on the right gear.  Do all this, do your research, and you will find yourself climbing the damage meters.