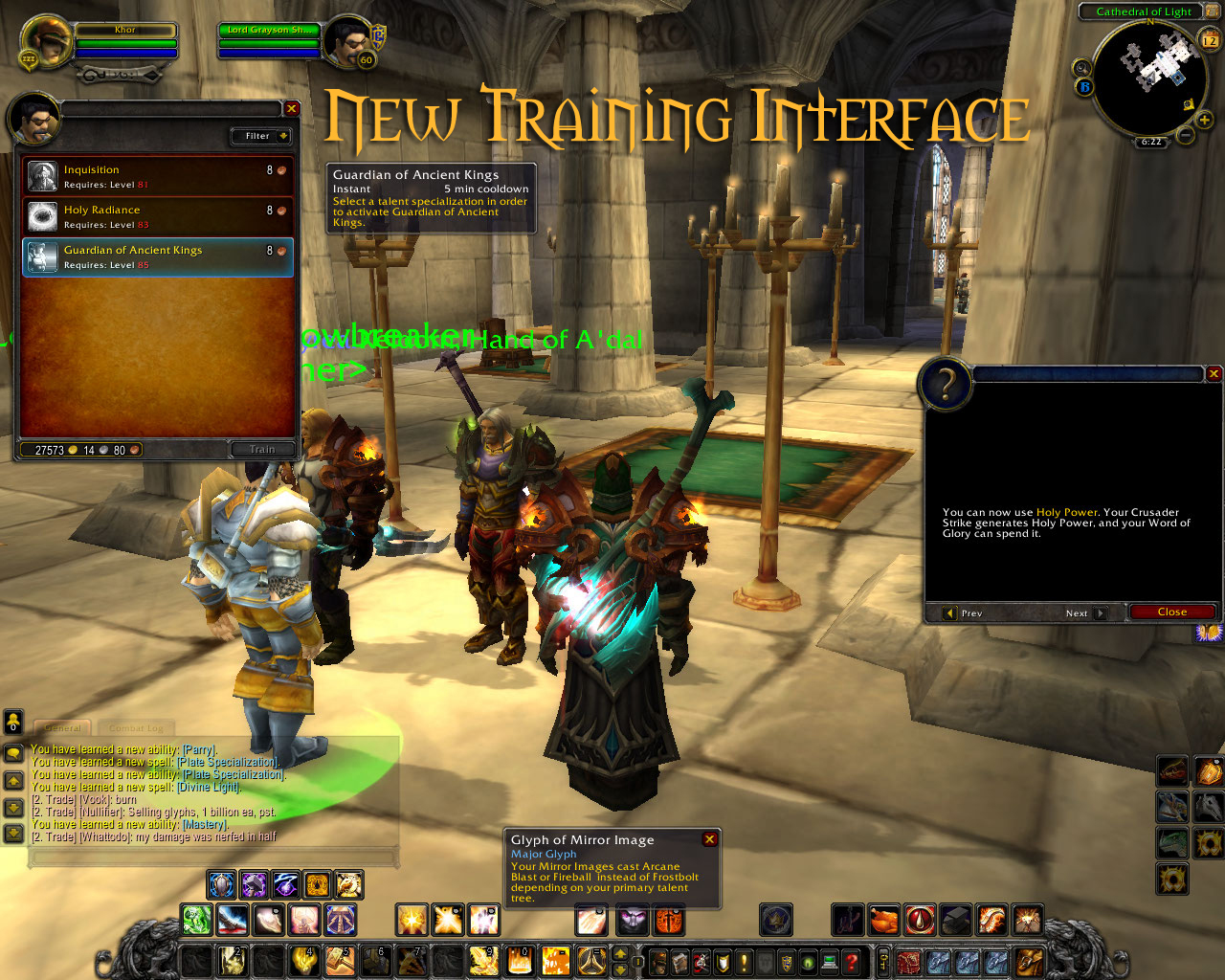 (Updated 9/15/10) Cataclysm PTR and Khor is in!  Of course, anyone can be in the Cataclysm PTR if they want to!  This gives me an excellent chance to try out some of the new Ret Paladin talents and abilities, as well as experience some of the changes come Cataclysm launch.
Cataclysm PTR 4.0.1 is the current version, and the content is only what we would get if we DID NOT buy the expansion, but continued to play on live servers.  So, the current PTR is what players will experience until they actually purchase and install the Cataclysm expansion.
There is no new content in terms of the destruction Cataclysm caused, and there is no leveling, etc.  But the new talent trees, abilities, and glyph changes, etc. are live on the PTR, so there is plenty to experience.
Retribution Paladins in Cataclysm PTR
There are many changes for Ret Paladins currently, so many that I found myself a bit lost.  Since I use the default WoW user interface normally, there wasn't a huge transition for me in terms of combat.  Players who do not use it, however, may experience a more difficult transition.
FCFS priorities are indeed all but gone.  Well, that's not entirely true.  In a way, Crusader Strike and Templar's Verdict will always take priority, but we'll get to that later.  Every other attack seems to be a gap filler, and my burst DPS feels slightly under par.
Self-healing has also been slightly gimped, and I see our solo adventuring becoming a bit more of a challenge.
Did you like Divine Storm and Consecrate in your single target DPS rotation?  Hope you weren't too attached, because these just got demoted to full time AoE attacks.
From my experience thus far, let's break it down into smaller categories.
Attacks and DPS Rotations
Like I said above, FCFS is all but gone.   Divine Storm and Consecrate either don't cause enough damage, or are huge mana sinks.  They are gone from our main rotation.  Holy Wrath also falls into this category.
Crusader Strike

Crusader Strike is our main attack now, and it packs a pretty decent punch. Haste does affect its cooldown, and it is available often enough that there is very little downtime between any of our attacks.
Judgement
Biggest surprise for me is that Judgement is nowhere near as powerful as it is in WotLK.   I only used it when Crusader Strike was on cooldown, and Holy Power wasn't at 3 stacks for Templar's Verdict.
Exorcism
Exorcism also seems to be less potent, causing far less damage than I am used to seeing.  I ran around soloing undead mobs in Icecrown, with my max Exorcism critting at 3774.  Art of War in it's current state wasn't giving me the instant Exorcism proc as often as it does on live, so waiting for that as one of my main attacks was a little frustrating at first.  What I do love is the UI addition that notifies you when Art of War is procced.
Templar's Verdict
Templar's Verdict hits like a truck.  And when Zealotry is active, you can pretty much expect a rotation of CS > TV > CS > TV etc.  With only Blessing of Might buffed, Templar's Verdict was critting for 11,000+ damage.
Self-Healing and Survivabilty
One of the best characteristics about a Paladin is the ability to solo content with strong self-healing combat mechanisms.  This changes drastically in Cataclysm.  Based on what I have seen, the loss of Judgement of Light, Divine Storm, and Flash of Light from Art of War procs, cripples our once titanic self-healing ability.
When attacking single targets, Templar's Verdict is your clear choice DPS-wise when Holy Power reaches 3 charges.  You can take Divine Storm instead, but for 75% less damage.  That's IF you decide to use a DPS attack with your Holy Power.
Healing has changed so dramatically for us, and among those changes, is the fact that Art of War no longer procs Flash of Light as an instant heal.  It doesn't trigger Flash of Light at all any more.  So in the middle of combat, when you feel you need to insta-self heal, think again.
Instead, you now have Word of Glory, which is an instant heal, that costs no mana, but heals in 3 ranks based on stacks of Holy Power.  At level 80, my normal self-heals were in the 5-6k range.  Crits were around 7700.  This seems awesome, but you have to take into account you pass up both Divine Storm and Templar's Verdict to do this.  While this is a great PvP tool, I see our solo fights taking a bit more time since we will be forced to Word of Glory instead of taking our DPS attacks.
Mana Usage
(Updated 9/15/10)
After spending 2 minutes, 5 minutes, and 10 minutes on dummies in Stormwind, I never ran out of mana using CS > Judge > Ex > TV.  In fact, my bar never left full mana status.  Seriously.  However, throw Consecrate into the mix, and I did use a bit more.  Nothing to cause me to run out of mana, but it seems adding Consecrate won't hurt as badly as I initially thought.  This, of course, is at level 80, which could be very different from 85.
Now, adding a Flash of Light to the mix is a completely different story.  If I want to forego Word of Glory for Templar's Verdict, then that leaves me with the re-designed and very powerful Flash of Light.  Flash of Light now packs a huge punch, but at a huge mana cost.  In tackling some level 82 elite mobs, I tested out using Flash of Light, and did have some mana issues there.  In longer fights, one or two FoL may be okay, but extensive usage like we are sometimes used to, especially in soloing more difficult content, may not be viable.
More to Come
I will be adding more as I delve deeper into the PTR.  Still waiting on my Beta invite Blizz!
Here are some addition pics of my first romp in the PTR: