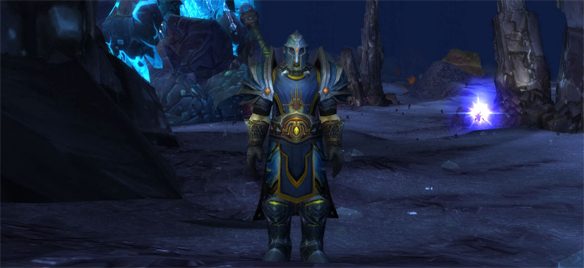 Cataclysm Day 3 was very entertaining.  I had made my way to Uldum, and the whole Harrison Jones theme was pure awesome!  However, due to what I assume is extreme exhaustion, I fell asleep on the floor after giving my 3 month old a bottle and putting him in his crib.  My wife woke me up around 1am, and I think I made it into bed on my own.
Woke up at 7am this morning, and went, "CRAP!".  I had cut my playtime short about 3 hours, and didn't get any work done on the site here.  Maybe I needed the sleep, but dang, I really hate when I do that!
Anyways, here are my evaluations from yesterday:
Seal of Truth bests Seal of Righteousness
I have completely abandoned Seal of Righteousness, at least for now.  The damage output just isn't enough to beat Seal of Truth on single targets, because of how tough even normal trash mobs are outside of dungeons.
Now, one would assume that Seal of Righteousness may regain some priority for AoE situations, and that may be true, but in 5-man dungeons, Seal of Righteousness is just pulling too much aggro off tanks, thanks to the cleave effect from Seals of Command.
So, for leveling AND 5-mans, I am currently running full Seal of Truth.
Did You Break a Quest Chain?
I did.  In Uldum, I broke one and found myself without any quests, with the quest achievement telling me I had 55 more to go.  So, I had to fly around all of Uldum, which isn't a tiny zone, and find where I had broken it off.  Lo and behold, it was Harrison Jones somewhere underground.  I am now on the right track, but I have one tip:  Some quest giveres give a small speech or have a small delay before giving the next quest.  If they do now immediately give another quest, wait a few seconds before flying off, because it is very possible they will give one a moment later.
Should I Reforge while leveling?
I think you can if you want, but it's not going to make or break your leveling experience. Personally, I am not reforging, and it hasn't slowed me down one bit.  Now, for end-game raiding and 5-mans…that's a different story.
Agility weapon has higher DPS, should I take it?
No, even if an agility weapon, such as a Polearm, has higher overall DPS, it's still a DPS loss by missing out on all the Strength a normal Paladin 2-hander would provide.  Stick with the Strength weapons!
Mailboxes in Uldum
Maybe you guys can help me, I haven't seen one blasted mailbox in Uldum, nor have I found the way to port there from Stormwind.  I know where the portal is, but the goofy NPC won't trigger a quest or speech to let me into the portal!  Anyways, the mailbox thing has my bags quite full!
Level 84
Level 84 and halfway there.  Sometime today or tomorrow I will be 85, and starting my journey to raiding.  Lots of content for the site at that point!