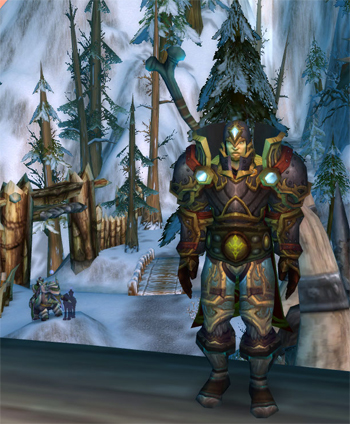 I have decided to try my luck at Ret Paladin PvP, and began my journey last week, beginning with AV weekend.  This allowed me to pump up some of my PvP gear, most of which had been acquired through VoA.  I finished my main set with Triumph Emblems, and honor bought several other pieces.  I'm still short a couple other gear slots, but I am getting there.  It's been almost twoand a half years since I did PvP in Burning Crusade, and that was as a Rogue.  So much has changed.
Normally, I try to post helpful information on the site, but this will actually be a self-update of sorts.  I have been scouring the web for helpful Ret Paladin PvP information, and it's far more difficult to pinpoint than I thought it would be.  From my observations, there are many scattered opinions about PvP, and a select few "concrete" stances in terms of how to PvP as a Ret Paladin.
Here are my observations on Paladin PvP thus far:
Holy is the optimal way for a Paladin PvP.
Protribution is the second best way.
Retribution is the third, has a lesser survivability than the two above, and at times won't put out the damage a Protribution can.
Getting information on gems, enchants, and talents isn't the easiest to find, but it is out there.  I had to sort through a bunch of crap to find it, though. Too many baseless opinions.
Inspecting fellow Paladins on BGs and in PvP areas is worthless and time draining.  I have never seen so many strangely gemmed, geared, and enchanted Paladins.  That's truly not a knock on them, but goes to illustrate how impossible it is to nail down one solid Ret build for PvP.
PvP is an art for those who truly which to master it.  The situations and scenarios far outweigh those of PvE.  PvP is much less of a faceroll than PvP, though with time I can see it becoming very methodical.
Arenas as a fresh Ret Paladin are an eye opener.  I literally got slaughtered in matches.  Not having a healer is almost fail from my viewpoint.  Oh wait, I can heal…sort of.
Alliance had become much better at PvP, but Horde are still better skilled, more coordinated, and attack with more precision.
Mixing and matching my PvP and PvE gear is a challenge, but I'm afraid my need for resilience will knock more of my PvE gear out.
Just as in PvE, getting to the hit cap in PvP is equally as important.
I am working on some dedicated Ret Paladin PvP pages for this site, and I welcome any and all constructive help on the subject.  Just remember, PvP isn't as concrete as PvE, so there is more flexibility in what you can do with gear, gems, enchants, glyphs, talents, etc.  I will try to focus on what is optimal, but that doesn't set it in stone.  PvP is ever-evolving, so always keep your mind open to new possibilities!
For this post, though, I would love to hear what other Ret Paladins have to say about PvP, and any tips to offer Ret PvPers.