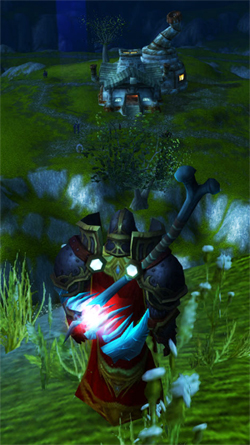 As a Retribution Paladin in the PvP arena, gems are a crucial part of your arsenal.  I have seen Ret Paladins gemming everything from strength, to pure crit, strength and haste, to even intellect and spellpower for PvP.  It's a melting pot of gem preferences out there.  So what gems are best for Ret Paladins in PvP?
First, let me tell you I have scoured Elitist Jerks, the WoW forums, Arena Junkies, and as many other WoW sites as I could, and have had to sort through a bunch of opinions on PvP gemming.  What I tell you here is the optimal way to gem as a Ret Paladin for most scenarios.  There may be other situations that call for slightly different gem slotting, but for the most part, stick with this.
Retribution Paladin PvP Gems
Strength – As a Ret Paladin, you will want to gem strength, strength, and more strength.  Bold Cardinal and Scarlet Rubies should decorate your gear, as solid strength provides the most damage output.  Trying to batter down the high resilience of other players will require a high damage output, and gemming for solid strength is the best way to do so.
Strength gives attack power, is affected by Blessing of Kings, increases spell power, and increases heals with the spell power buff.  This is a far greater advantage than using a strength/crit or strength/haste gem.  Strength all the way.
Resilience – Gemming for pure resilience should only be done if you are really low on your gear-based resilience.  It's not going to replace strength gems, but it will hold up your survivability enough until you get enough gear to compensate the current lack of resilience.
Retribution Paladin PvP Meta Gems
There are other options in the meta gem department that would decrease stun/snare/root resistance, but I opt for the damage increase.  This is an arguable topic, so I do not fault anyone for taking other meta gems, but my goal as a Ret Paladin in PvP is to put out as much damage as possible.  By increasing the crit and crit damage, I am adding to my arsenal to beat through all that stacked resilience and stamina.
Gem for DPS
The general philosophy for Ret PvP gems is to gem for DPS.  Our best bet is strength, so putting any other gems in is more than likely a DPS loss.