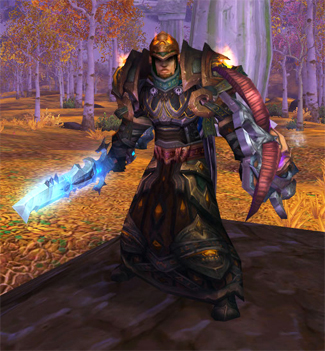 Yep, it sucks to be a Paladin in VoA.  No matter what role you fill, you are destined to get gobsmacked in the mouth for rolling on any given piece of loot.  Yep, happened to me tonight.  Do I feel bad for winning loot outside of the role I was filling?  Absolutely.  Do I feel hellaciously good about winning the loot I won?  You bet.
See, I am all about fair looting in VoA.  If you come in as a healer, roll on healing gear only.  If you are Ret, only roll on Ret gear.  Tanks…toss those dice on your tanking gear alone.   I used to abide by these rules all the time, but my efforts have cost me numerous upgrade losses.  Sure, it's fair game, but enough is enough…if the raid leader allows open class rolls on loot, I am all in.
Tonight, I went into a 25-man VoA as a healer, because, well, healing was needed.  I was the only Holy Paladin, accompanied by a Ret Paladin and a Prot Paladin.  Three of us in, and guess what?  Tanking T10 legs dropped.  Raid leader allowed open rolls, so all of us rolled, and I won.
Immediately after the win, Ret Pally bombarded me with "Do you have a tanking set?"  Well of course I do.  "Let me see it."  Not on me mate, but I'll show you after this run if you want to follow me to the bank.  Thanks for the vote of confidence, though.
Oh yeah, I'm specced Holy/Ret right now for ICC needs, but I could easily have to tank next week.  Such is the beauty of pre-expansion withdrawal, low summer guild attendance, and ultra Paladin utility.
Tank Paladin chimes in with a whisper of his own, "Do you have a tanking spec?"  I'm holy/ret right now, but I run Prot too, depending on what my guild needs for ICC.  Do you want to come to the bank to see my tnaking set, Ret Paladin over there is already accompanying me. "Whatever, I'm fine".
I'm tired of this junk…Just attack me why don't ya?   Accuse me!  Beat me with a dead murloc!  You know what?  I don't blame you at all! I probably wouldn't be vocal about it, but I know I'd be frustrated.  Ret gear never drops in there for me, I had to emblem purchase my Ret pants and gloves.  I've always managed to have tank and heal T10 drop when I was one spec or the other.  It was time for me to look out for me.  Yeah, asshole move, I know.
Tank rightfully should have had those pants in my book.  Really, he should have.  But my moment of selfishness robbed him of his gear, and it leaves a bittersweet taste in my mouth.