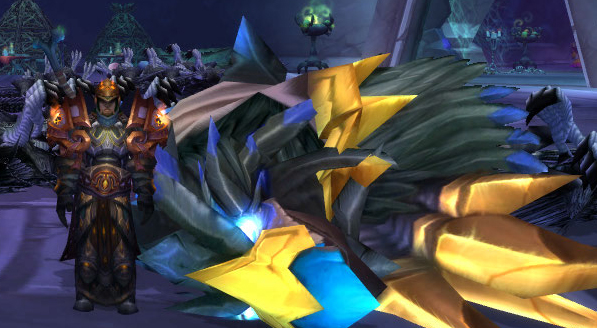 Ret Paladins can now solo Anzu, the boss in Heroic Sethekk Halls that drops Reins of the Raven Lord! Patch 4.0.1 brought about this change, and in the room where Anzu is found, there are no longer any additional NPCs, just the boss. The fight is pretty straight forward for Retribution Paladins.
Retribution Paladins Solo Anzu
To solo Anzu, we have to remember that as of Patch 4.0.1, we don't have the strong burst AoE, or auto self-heals we were used to. Soloing content is much more tedious now, and you have to be more careful. Being reckless can easily result in a wipe. That means no more mass-pulls either.
Getting to Anzu is pretty easy. Engage the mobs you have to, and avoid the rest. For trash, go with Seal of Righteousness and Blessing of Might. Try not to pull more that one pack of mobs at a time. These guys hit hard in Heroic mode, and you will find yourself healing more than you are used to.
Here is how I solo'ed the trash:
Pull with Judgement or Exorcism, using LoS (line of sight) when possible.
Primary attacks went CS > Ex > Judge > HW.  I only used Exorcism when it procced, and got as many Holy Wraths in as I could.
I did NOT Consecrate or Divine Storm.  Consecrate was for mana purposes, and Divine Storm is useless in my opinion (for soloing).
Holy Power was primarily reserved for Word of Glory, which I used often at 2 or 3 stacks of Holy Power.  This came as a higher priority than Templar's Verdict.
If I was full on HP, I opted for Templar's Verdict, NOT Divine Storm.  Divine Storm is underwhelming in damage and healing…try it and you will see.
You will come across one boss, Darkweaver Syth.  To tackle him, I popped Avenging Wrath, used Hammer of Wrath as often as it was up, and he went down quick.
When you get to Anzu, he is sitting alone in his room.  I simply ran straight in and engaged.  Here are a few things to look out for:
Spell Bomb – Minimal effect and damage, but will hit if you try to heal with this debuff on.
Paralyzing Screech – This one can be tricky for undergeared players.  Traps you for 6 seconds.  Noting you can do to remove it, although I did not try Divine Shield yet.  Be ready to heal once it's over.
Banish and Spawn Birds – At 66% and 33% HP, Anzu will self-banish, and his flock of birds will attack you.
My fight pretty much went as follows:
Seal of Righteousness (Seal of Truth can work, too) with Blessing of Might.  Blessing of Kings for Ret Paladins with lesser gear.
Run in and immediately activate Avenging Wrath.  Used Hammer of Wrath often, followed by CS, Ex, and Judgement.  Ignored all AoE abilities.
If I took enough damage, Word of Glory.
If HP was okay, I hit Templar's Verdict.
Healed up immediately after Paralyzing Screech.
When boss banished, did get Paralyzing Screech a couple times, so birds got some free shots in.
For killing the birds, I used Consecration and Holy Wrath, with Crusader Strike, Exorcism, and Judgement.  Didn't use Templar's Verdict, as I opted for Word of Glory instead.
Rinse and repeat, boss went down fast.
I never had to activate Zealotry, although that could have been done as well.
IMPORTANT NOTE: I often found that many times, when I had 3 stacks of Holy Power, I was using Word of Glory above Templar's Verdict.  By the time the HP stacked up, I needed healing.  If Hand of Light procced, that was my best opportunity to Tv, or combine a quick WoG and TV at the same time.