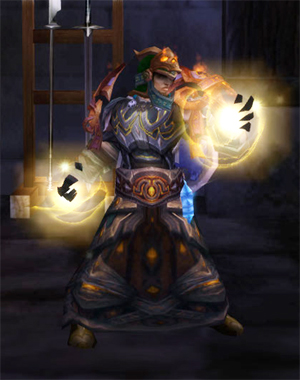 Here's a quick guide on buffing 5-man dungeons as a Retribution Paladin.  Most of you more established Ret Paladins may shrug at this as common knowledge, but some newer Paladins may still be learning the ropes.
In Cataclysm, we now only have two buffs:
Both blessings last for 1 hour, and do not require a reagent to cast.
As opposed to raiding, where multiple Paladins can hand out all the useful Blessing buffs, 5-mans will usually only have one Paladin to hand out one buff per class. So what class gets what buff? What roles desire wisdom?  Do Warrior DPSers want Kings or Might?
Here is the general list for buffing 5-mans:
Blessing of Might
Melee or physical damage-heavy groups

Blessing of Kings
With all that said, sometimes, a class will ask for a different buff than normal.  Because 5-mans are so easy to tackle these days, the general buffs may not apply to greater geared players.
Finally, if a player requests a certain buff outside what is considered normal for their role and class, go ahead and oblige, even if you disagree.  It's not worth the discussion before the party even starts.
Once you are buffed, you are ready to go!  Just make sure to re-buff players who die mid-run with the appropriate bessing!