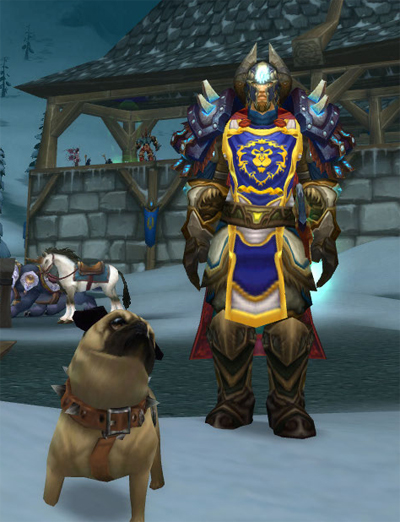 Recently, I added the Perky Pug to my plethora of pets.  This little butt scratcher has a nasty little obsession with wiping his ass wherever we travel.  To get the Perky Pug in WoW, you have to run random dungeons using the LFD, or Dungeon Finder tool.  Once you have grouped with 100 random people, you will get an achievement and the Perky Pug will by dropped into your mailbox.
But I'm not here to talk about the actual pet.  I am here to talk about all the PUGs I have been with since Patch 3.3 came out.  First,  after realizing that waiting in the LFD tool as DPS was a futile waste of time, I decided to go Prot and my queue times were dropped to, oh, about 2 or 3 seconds…literally.  Lots of DPS, very few tanks (and healers for that matter).
So, as a Ret Pally turned Prot Pally, I have been tanking just about every LFD instance I have been in.  I have two observations I would like to point out.   One, there are so many Druid healers out there!  My goodness!  Just about ever 1:2 healers I get is a Druid.  Next is Priest, then Shammy, and finally Paladins.  I am surprised at how manyResto Druids I have been running with.  Great job guys!
Now, point number two leads me to heaps of frustration.  As a Ret Pally in these instances, and even in the Heroic Icecrown 5-mans, I am pulling anywhere from 3500-4500 DPS. As a Prot Paladin I range from 2300-3000 DPS.  How the hell is it that I am out-DPS'ing at least 2 members in my group, and sometimes all, as a tank?!?!
Look guys, I know I'm not that superb, nor is the Paladin tank a phenomenal DPS machine, but COME ON!  If I am rolling 2700 DPS, and no one can top me??? We have some serious issues.  Paladin tanking AoE is no excuse…I don't think I've ever really been aware at how low some players' DPS actually is.
If you are DPS, make sure you are running a damage meter of sorts, like Recount.  Check to see where you stand.  If the tank is out DPS'ing you by at least a couple hundred DPS, it's time to re-evaluate some gear, specs, enchants, gems…something!
Ah, now with that said, there have been some phenomenal DPS, some even punching through 5k DPS in a single 5-man (DK, Rogue).  But these are in the minority.  Not sure if most people are running alts through or what…but I have noticed a heavy lack of DPS from most of my 5-mans.
Hopefully this will change in time.  We will see.