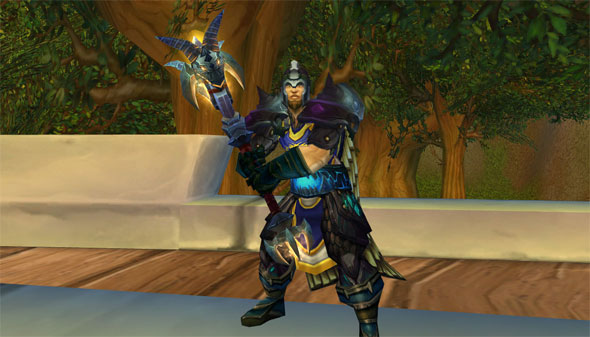 Patch 4.0.6 has launched and for Retribution Paladins, we are seeing some much bigger DPS numbers!  I think we can all agree this is an improvement over our former DPS state.  The Mastery change has given us a much needed boost to our damage totals.
For a quick review, you can view my previous Patch 4.0.6 posts here:
Retribution in 5-Mans
My DPS in 5-man heroics has literally skyrocketed.  My overall DPS has jumped from around 9k to 11k.  My boss DPS has jumped from around 12k damage, to an average of 15k damage.  On some fights, where Divine Purpose was proccing often, I was crashing through the 18k barrier, pushing 19k.  Instantly, I became competitive DPS.
With more damage, I noticed mobs going down much quicker. That meant using Inquisition actually was a hindrance at times. It would suck up Holy Power I should have been using for Templar's Verdict. Now, when it comes down to it, trash is irrelevant and bosses are where Inquisition truly shines, so no real big deal there.
Raiding
DPS in raiding has climbed as well, scaling very well with raid buffs.  Now, I'm not going to say we will top the DPS charts, but our DPS should be sufficient enough to not get us an immediate dismissal from raid spots any more.  From what I am seeing on the World of Logs reports, Retribution Paladins are now falling in the middle of the pack on DPS.
The Censure change also gives us a buff on fights where we are moving around a ton.  when we have to move and cannot stay in melee range, there is a good chance our Seal of Truth and Censure damage could fall off the boss, causing us to have to get the stacks up to 5 again.  Now, we can use our ranged attacks to keep Censure ticking, and also can build 5 stacks much quicker with an assortment of attacks now able to apply the DoT effect.
Divine Purpose
Divine Purpose is a tricky talent.  For me, sometimes it seemed like it took forever to proc and get me a Templar's Verdict.  Other times, it would proc 4x in a row, and my DPS would soar.  It's still an inconsistent mechanic in terms of Holy Power generation, and Crusader Strike doesn't seem to be able to add it up quick enough.
While our DPS is high, I wish there was a better (more concrete and consistent) way to generate Holy Power than a 15% chance on specific attacks.  Relying on RNG still has its flaws.  But hey, we are more DPS after 4.0.6…so, I won't whine too much.
Haste
Haste value has dropped significantly, and I won't go into detail here about this.  I am working on a post to release soon addressing the state of Haste in 4.0.6
Patch 4.0.6 Summary
Overall, I am content with the patch and its DPS improvements.  I still think our mechanics are a bit wobbly, and future patches will give us a better idea if the current Ret build will stand the test of time.  I expect to see many more Retribution Paladins in raids now, and I am curious to see what top-end gear will do for our damage totals.
(If you have any comments, please feel free to leave them below!  If you link DPS numbers you are doing, try and link your armory as well.  Many players see high DPS numbers and instantly want to check that player's gear for comparison!  It's a simple and great method to help other Rets out!)