Your Retribution Paladin has reached level 85, congratulations!  You have battled your way through the Eastern Kingdoms, Kalimdor, Outlands, Northrend, and finally the Cataclysm ravaged elite zones of Azeroth.   Now, your real battles begin.
You may have tasted dungeons and PvP before this, and you may have sampled what it is like to craft and gather materials for a WoW living.  But now, you experiences thus far are but trivial adventures in a much larger war.
End game content in World of Warcraft includes raiding, 5-man dungeons, and PvP.  This post here will focus on the PvE and raiding aspect.  If you are a new WoW player, and your Retribution Paladin is your first WoW toon, this guide will help you start your journey.  If you are a WoW veteran, this guide will help you discover key tips and hints on starting out with your Ret Paladin.
World of Warcraft Level 85
Many players reaching level 85 want to jump right into 5-man dungeons, and begin raiding as soon as possible.  It's a glorious future for these battle-eager soldiers!  But there's more to playing World of Warcraft at level 85 than just jumping right in.  There is research, studying, analyzing, questing, grinding, and immersing yourself for the one purpose of being a solid PvE player.  Sounds intense, right?  It is!
Dungeons and Raids in Cataclysm are not tailored to the casual player.  They are tough, and require skill and execution.  Gear is a plus, but knowledge will always be your best weapon.  So, let's get going on that whole knowledge aspect, shall we?
Retribution Paladin Stat Priorities
You are a Retribution Paladin, and your main damaging stat is Strength. Strength equates to Attack Power, which is what will make our weapon and attacks hit harder.  Every single piece of gear you equip should have strength on it.  No ifs, ands, or buts.  Strength.  Lots of it.
After strength, you will see an assortment of other stats.  Stamina is something that will be on every piece of gear you have as well, and is considered a primary stat, just like strength.  Stamina translates to health.  The more stamina you have, the larger your health pool will be…allowing you to take bigger hits and survive longer.  That said, stamina is not a stat Retribution Paladins concern themselves with in PvE, so you can ignore it all together.  Stamina is highly coveted by specs that tank, which we do not do.
Every other stat we have on gear falls under a category called secondary stats.  These stats are the bottom one, two, or three listed at the bottom of the gear descriptions.  For Retribution Paladins, our stat priorities look like this:
Strength
Hit Rating
Expertise
Critical Strike
Haste
Mastery
You can read more on Retribution Paladins Stats for further detailed information.
Strength, we know is #1.  The rest are placed in order of importance.  When choosing your gear, you want to follow the above list.  Confused?  Let me explain further.
Hit Rating – Hit rating is a stat we use to prevent our melee weapon swings and attacks from missing the target.  Yes, it can and will happen.  And missing can be one of the biggest reasons our damage and damage per second (DPS) are low.  To prevent missing a target, we need 8% hit, or 960 Hit Rating at level 85.  This is called the hit cap.
Expertise – Expertise functions similarly to hit, in that it prevents a boss from dodging our attacks from behind.  If a boss dodges an attack, we deal no damage.  Another big damage and DPS loss.  To prevent an enemy from dodging our attacks, we need 26 Expertise, or 781 Expertise Rating.  This is called the expertise cap.
Reaching the hit and expertise caps are the #1 and #2 priorities in terms of gearing up your Retribution Paladin.  However, once you have reached those caps, they immediately lose importance. Once you have reached both caps, your stat priority starts to look like this:
Critical Strike
Haste
Mastery
If at any point a gearing change drops you below hit/expertise caps, then you need to re-address those needs.  For further discussion on critical strike, haste, and mastery, please see the Ret Paladin Stat page I linked above.
Gems
As you gear up at level 85, you will start to see empty gem slots appearing on your gear.  This is an excellent way to boost your damage and DPS as a Retribution Paladins.  I am going to make this very easy for you…starting out, you want to gem for strength, strength, and more strength.  This means you will be using the following gems:
You can read my page on Retribution Paladin Gems for further information.
Strength is such a strong stat that it boosts our DPS more than anything else.  So all gems should focus on this.  If you are wondering about gemming for hit or expertise, don't worry about that.  Hit and expertise stats should be coming from gear alone.  Focus all gemming on strength.
The one and only exception to this (at the moment), is as follows:
"Strength is so far superior to every other stat, that you do not even want to hit or expertise cap through gemming. Gem pure Str except in the following situations.
Replacing a single gem with a Str/rating hybrid for a +20 (or greater) Str bonus. No Str loss, 20+ rating gain. Free lunch.
Replacing two gems with Str/rating hybrids for +30 Str bonus. You lose 10 Str for 40 rating. Minor net gain.
In general you will see +10 stats for a single socket bonus, +20 for two sockets, +30 for three sockets. Helmets break this rule and may be significantly higher for a single socket (and meta)."
Source: Exemplar @ Elitist Jerks http://elitistjerks.com/f76/t110342-retribution_concordance_4_0_3a/
Enchants
If you are serious about 5-mans and raiding, every enchantable piece of gear should have an enchant on it.  This requires some research, and sites like mine have lists where you can research the best enchants for Retribution Paladins.  Don't be afraid to use a cheaper version of the best enchant available.  This will suffice until you can save the gold or materials needed for the optimal enchant.
You can read my page on Retribution Paladins Enchants for further information.
Glyphs
Glyphs are a fun part of Retribution Paladins gameplay.  In fact, they are a fun part of any class's gameplay.  But with all those choices, there is a select list of glyphs that are best for your Paladin.  If you truly want to put out high DPS and damage, then it is best to stick with glyphs that are proven to help put out larger DPS numbers.
You can read my page on Retribution Paladin Glyphs for more information.
Talents
One of the most common errors I see amongst new Retribution Paladins is having the wrong talent spec.  If you do enough research on sites like this one and Elitist Jerks, you will see there is a definitive talent tree set-up that is best for maxing your damage and DPS.  At the time I am writing this post, the best set-up you can have for the Retribution Tree is:
I choose to keep one point in Acts of Sacrifice to have Cleanse remove a movement impairing effect.  Some other Rets will stick that extra point into finishing Eye for an Eye.   It's your call which way you go, either works fairly well.
You can read my page on Retribution Paladin Talents for more information.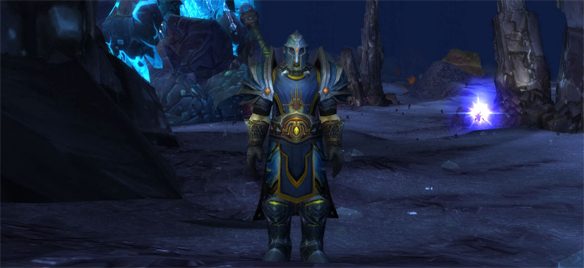 5-Man Dungeons
Okay, enough with the basics, Khor!  I know this much already!  Help me DPS in 5-mans!
Alright, let's get down to DPS performance.  5-Man dungeons are what I like to call mini-raids.  The adds and trash packs require crowd control, and bosses can be intricate encounters to the new Ret Paladin.  You can easily spend a few hours in one 5-man heroic.  This is very different than what we saw at the end of Wrath, where most heroics could be done in 15 to 20 minutes.
First, you need to learn your crowd control (CC) spell, Repentance.  Repentance will basically render an enemy useless for up to a minute, if not damaged.  You will be using this on a designated target, usually given to you by the tank or group leader. Other classes with CC will have targets as well.  Make sure to not CC their targets, and make sure not to damage any CC'd targets, as that will cause the CC to break, and the mobs will join the fight, causing added stress on the tank and healer.  If you continue to break CC, or fail to hit your CC on time (usually with the initial pull), you might be booted from the group.
Second, the tank will usually mark the target to kill with a skull.  Kill this target first, and try not to DPS any other targets until it is dead (unless AoE damage is appropriate *think Divine Storm*).  DPSing targets that that the tank is not focused on may cause them to fight you instead of the tank, likely causing you massive damage, and possibly even a quick death.  Multiple events such as this may also cause your group to give you a boot.
Third, maximize your DPS by following our first come first serve (FCFS) rotations.  This gives you a prioritized list on what attacks should be used first.  Whatever the best attack is off cooldown should be used next.  Read my Retribution Paladin FCFS rotations page for more info, and learn the rotations well.  Make sure you are using your big damage buffs like Avenging Wrath, Zealotry and Inquisition as often as possible (yes, even on trash).  Make sure to have them available for all boss fights, too.  This is especially important for lower DPS, whose damage output will clearly indicate a lower gear/skill level.  Using damage buffs like AW will help pad your numbers a bit.
The Ugly
I'm not going to lie to you guys.  New players starting out in 5-mans are going to be in for a rude awakening.  If you are undergeared, and putting up low DPS numbers, most PUGs and 5-mans are just going to let you have it.  They won't hold back, and will probably boot you from the group if you continue to underperform.  This turns a ton of new players off from the Retribution Paladin class, and sometimes WoW in general.
Very rarely will you find strangers (aka PUG members) willing to help you out.  Players these days are merciless, impatient, and somewhat cruel in terms of tolerating new players.  It's sad, but true.  Sometimes, you will just get booted from the group without any warning at all.  It's a craptastic feeling, I promise.
To help remedy this, I strongly recommend new players do a ton of research when they hit 85.  There will be reputations to grind for gear, crafting and profession items to be bought or made, glyphs and gems and enchants to be added…all of this can be studied before setting foot in a 5-man.
The 5 Steps to Higher Performance
1.  Research RetributionPaladins.com– Shameless plug for my site?  Sure, why not!  I have hundreds of pages of content for you here.  Sure, it seems like alot, but as you continue to read, you can really start to get a better understanding of Retribution Paladins.
2.  Research WoWhead.com– Next, start researching gear you can get via reputations.  This is the easiest way to get good gear, and just takes a little daily quest grinding to accomplish.  You can also run normal 5-man dungeons with faction tabards to help speed this process up.  Also, see what crafted items can be useful to you.  Look at purchasing the mats on the AH or gathering them yourself.  Then you can find a crafter to make these items for a small fee (If you are not a crafter yourself).  Finally, start researching the dungeons and bosses themselves to find out what dungeons are best for your gear drops.
3.  Practice in Normal 5-Mans – Even if your gear score says you are ready for heroics, your skill may not be.  Spend a few days practicing DPS in normal 5-mans, which are WAY more forgiving than their heroic counterparts.  Once you start seeing your DPS improve, then you can consider shifting to heroics.
4.  Evaluate– After steps 1-3, evaluate where you stand on DPS.  Are you satisfied with your DPS?  Does it need more work?  When I get stuck on maximizing DPS, I start asking players in my guild for advice.  Try this route first.  Chances are, there is a guildie who can point you in the right direction.  If you don't have this luxury, you can try the WoW forums or the forums here on my site.
5.  Elitist Jerks– Once you have a solid understanding of what it is to Retribution Paladin, then you can shift your attention to Elitist Jerks.  This is where the more advanced class discussion takes place, so you will need your thinking cap here.  Here you can really start to break down your technique and mechanics, and hopefully start down the path to being a great Ret Paladin!
If you would like to see something addressed or added here, please feel free to comment below!