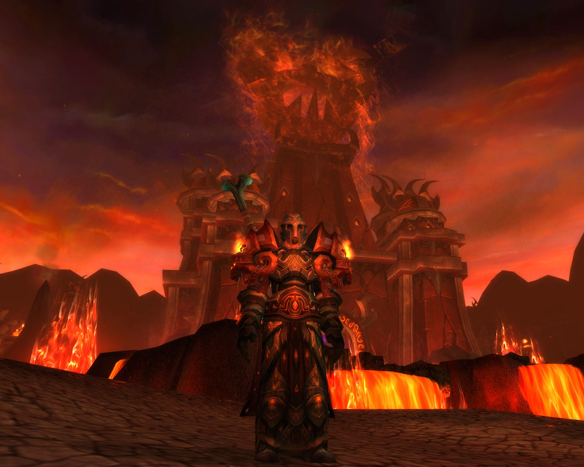 My first day in Cataclysm is over and I am very impressed with everything so far!  I made it to level 83, which is pretty good considering I was only on for half the day.  As I logged on for my evening gameplay, I started to see server firsts for reaching 85…crazy!
I am going to leave you guys with my first impressions of Cataclysm, so feel free to chime in if you have anything to add!
Retribution and Mana Issues
I really thought I was going to have more mana issues, but mana is a non-factor, at least through the first half of leveling.  Haven't had to stop to drink once, and I have only used Divine Plea a handful of times.   Honestly, it's nice not having to worry about it.
Retribution and Holy Light
Figured out Word of Glory is not so great for healing when immediately exiting combat.  It's usually weak, and with mobs hitting pretty hard, I'm healing often after combat.  Holy Light is 100% the way to go, thanks to a 300% buff with Crusade, which we should all have as a core talent.
Retribution and Avenging Wrath
Use Avenging Wrath often.  You will need it.  Mobs are harder, and they hit hard.  Multiple mobs are going to give you a nasty challenge if you aren't careful, so don't be frugal with Avenging Wraths.  Use them, and use them often!
Mob Difficulty
That brings me to mob difficulty.  These aren't your ordinary trash mobs.  They have large HP pools, and have traded in their wiffle bats for some cold, hard steel.  Be careful, and learn how many you can take on at once.  Three was usually my limit, with 4 really pushing it and almost always requiring buffs, Lay on Hands or shields.
Weapon and Gear Replacement
Replaced my weapon at level 82 in Deepholme.  Can't remember the axe name, but it was a rare quest reward.  Two of my four T10 are gone, and I have replaced my helm and trinket.  WoW Armory hasn't updated my most recent changes at the time of this post.
Inns with No Rested XP
Some bases or retreats I found myself in had Innkeepers, yet the buildings they were in did not change my level 80 to little zzzz's.  Was not accumulating rested XP in these "Inns", so make sure to check before you log out!
Lootable Mobs with No Loot
I'm sure many of these mobs aren't supposed to have loot, but I ran into a good handful of mobs that allowed me to loot, but come away empty-handed.
Quest Markers Off?
Found several quest markers close to where they needed to be, but as I closed in and got near, the marker would shift quickly to another area.  Didn't happen all the time, and really isn't a big deal to me, but it was something I noticed on more than one occasion.
Flying Mounts in Water
Where was I when flying mounts could swim in water, and we can now take off from water with our flying mounts?  Woot!
Flow of Quest Chains and Quest Stacking
The flow of questing is much better this time around, and even though there are usually no more than 3 quests per trip, they go pretty fast.  Usually they are a kill quest, gathering quest, and action quest.  They probably could have made quest stacking a little better by combining quests, but due to the sheer number of quest hubs (which are many), I understand why they didn't.